THE BURIAL OF KOJO
Ghana / USA 2018, R.: Blitz Bazawule, 80 Min., engl. / Twi OF, engl. UT
Esi wächst behütet auf, geliebt von ihrem Vater Kojo. Doch dann erschüttert die heile Welt ein tragisches Ereignis, das die Familie zu verdrängen versucht. Esi wird aber zunehmend von Albträumen heimgesucht, Realität und Visionen mischen sich. Auf der Suche nach dem frühen Kindheitserlebnis erscheint ihr Kwabene, der Bruder ihres Vaters, der vor Jahren als Hip-Hop-Künstler in die USA ausgewandert ist. Beide Brüder haben einst die gleiche Frau geliebt und nun ist sie tot. Der Vater quält sich mit Schuldgefühlen und sein Bruder hegt Rachegefühle. Eines Tages verschwindet Esis Vater spurlos, nur sie kann ihn finden und retten.
In diesem Film mischen sich Hip-Hop und afrikanische Traditionen zu einem spannenden Mix. Die Tragödie erzählt mystisch von Leben und Tod, von Liebe und Verlust.
Der Film wurde mit kleinem Budget und lokalem Filmteam in Ghana ­gedreht. Die meisten Schauspieler*innen standen zum ersten Mal vor der Kamera.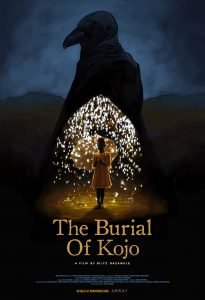 Blitz Bazawule, geb. in Ghana, ist unter dem Namen Blitz the Ambassador bislang vor allem als Hip-Hop-Künstler bekannt. Er lebt in New York. "The Burial of Kojo" ist sein Spielfilmdebüt. In Ghana unterstützt er junge Filmemacher*innen. Als Musiker veröffentlichte er vier Studio-Alben.