Senegal / Frankreich 2012,
R.: Alain Gomis, 86 Min., OF m. engl. UT. Mit Saul Williams, Djolof Mbengue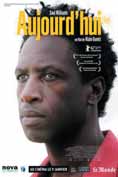 Auf mysteriöse Weise weiß Satchés beim Aufwachen, dass dies der letzte Tag seines Lebens sein wird. Von einem langjährigen Aufenthalt in Amerika in seine Heimatstadt Dakar/Senegal zurückgekehrt, wird er zunächst wie ein Held gefeiert, doch dann offenbaren sich ihm vertraute Personen von einer ganz fremden Seite. Er läuft durch die Straßen der Stadt wie auf Entdeckungsreise, auf der Suche nach Identität, alter Vertrautheit.
Tey – Aujourd'hui ist ein vielschichtiger, besinnlicher Film, der anders als viele afrikanische Filme nicht die Auswanderung, sondern die Rückkehr in das Heimatland in den Mittelpunkt stellt.
Alain Gomis, Sohn einer französischen Mutter und eines senegalesischen Vaters, wird 1972 in Paris geboren. Dort studiert er zunächst Kunstgeschichte und Film an der Sorbonne, bevor er die Leitung von Video- Workshops der Stadt Nanterre übernimmt. Seine frühen Reportagen sowie die Spielfilme "L'Afrance" (2001), "Andalucia" (2008) und auch sein neuer Spielfilm "They – Aujourd'hui" handelt von der Entwurzelung von Menschen zwischen verschiedenen Kulturen, von ihrem Gefühl der Zerrissenheit und dem gesellschaftlichen Ausschluss.
"Tey – Aujourd'hui" gewann den 1. Preis beim FESPACO 2013
TEY- AUJOURD'HUI
Senegal / France 2012, dir: Alain Gomis, 86 min, OV w. Engl. SUB
Satché wakes up in perfect health, but is for some reason aware that this is to be his last day, and that he will not live to see the next morning. He has returned from his long-term stay in America to his hometown Dakar (Senegal). He is treated like a hero, but also experiences how people that have been familiar to him reveal another strange site of themselves. He walks through the streets of his Senegalese hometown as if on an expedition to find his identity, the familiar past.
Tey – Aujourd'hui is a multi-layered, reflective movie that portrays, unlike many African films, not the emigration, but the return to the homeland. Tey has won the Golden Stallion prize for Best Film at the 23rd pan-African films festival, FESPACO (2013).
Alain Gomis was born in Paris (1972) to a Senegalese father and French mother. His previous reportages, as well as feature filmes "L'Afrance" (2001), "Andalucia" (2008) and his new film "Tey – Today" all focus on social dislocation of people between cultures and the feeling of brokeness and social connection.
Zurück