ALI, THE GOAT AND IBRAHIM
Ägypten 2016, R.: Sherif El Bendari, 90 Min., arab. OF, engl. UT
Ali liebt "Nada" über alles, keiner kann das verstehen, denn "Nada" ist eine kleine Ziege. Bei ihm stimmt was nicht, sagen die Leute, auch seine Mutter ist verzweifelt und schleppt ihren Sohn zu einem Heiler. Dort trifft er den Aufnahmeleiter Ibrahim, der ständig von schrillen Tönen verfolgt wird. Für den Schamanen ist die Sache klar: Auf beiden jungen Männern liegt ein Fluch, der nur mit magischen Mitteln zu bekämpfen ist. Drei Steine müssen ins Mittelmeer und ins Rote Meer sowie in den Nil geworfen werden. Ali und Ibrahim machen sich also auf mit der Ziege im Schlepp zu einem turbulenten und skurrilen Trip quer durch Ägypten.
Komödiantisch verpackt greift der Film subtil die politische Situation im heutigen Ägypten auf.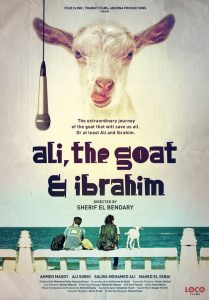 Sherif El Bendary lebt und arbeitet in Kairo. Nach ­seinem Studienabschluss am "High Institute of Cinema" in Kairo 2007 realisierte er zunächst Kurzfilme, die ­vielfach ausgezeichnet wurden. "Ali, the Goat and ­Ibrahim" ist sein Langfilmdebüt.