Mali 2012, R.: Ibrahima Touré,
92 Min, OF m. engl. U. MitViviane Sidibé, Belco Diallo Boubacar Hamadoun Kassogué, Fanta Bereté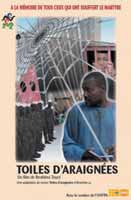 Der Film erzählt von Mariam, die sich einer Zwangsheirat widersetzt, weil sie einen anderen liebt, und vonYoro, einem Mathematiklehrer, der beschuldigt wird, Anführer eines politischen Protestes zu sein. Sie begegnen sich im Gefängnis, in dem sie schlimmsten Haftbedingungen ausgesetzt sind. Beide halten jedoch an ihren Prinzipien fest, sie kämpfen gegen private und staatliche Willkür, fordern Liebe und Freiheit, Gerechtigkeit und Menschenrechte ein.
"Toiles d'araignée" ist eine Adaption des gleichnamigen Romans des verstorbenen Autors Ibrahima Ly, der selbst viele Jahre als politischer Gefangener in malischen Gefängnissen saß.
Der Film erhielt beim FESPACO 2013 die besondere Auszeichnung der Jury für lange Filme, den Preis der Afrikanischen Union sowie den Preis Ousmane Sembène der Stiftung Ecobank.
Ibrahima Touré, geb. 1954 in Mali, studierte in Bamako und machte anschließend verschiedene Ausbildungen in Paris. Dort nahm er 2003 an einem Kurs über die Umsetzung von Kunst und Literatur in audio-visuelle Formen (PADIAVA) mit dem Schwerpunkt Afrika teil. Seit 2005 arbeitet er bei Cheikh Oumar Sissoko als Regieassistent.
"Toiles d´araignées" ist sein erster Film als Regisseur.
TOILES D'ARAIGNÉES – Cobwebs
Mali, 2012, R.: Ibrahima Touré, 92 min, OV w. Engl. SUB – German Premiere
The film is about the life of Mariam who refuses forced marriage because she loves someone else and Yora, a maths teacher, who is accused of being the leader of a political protest. Their encounter is in the prison where they are being held under the worst conditions. Nonetheless, both adhere to their principles. They fight against governmental despotism and demand love, freedom and human rights.
"Toiles d'araignée" is based on the novel of the same name of the deceased author Ibrahima Ly, who also spent many years as political prisoner in Mali.
The movie received special recognition at FESPACO, was awarded the African Union prize and the prize of the Ousmane Sembène foundation of the Ecobank.
Ibrahima Touré, born in 1954 in Mali, studied in Bamako and subsequently undertook varied different professional trainings in Paris. In 2003 he took course in transformation of art and literature into audiovisual forms (PADIVA) with focus on Africa. Since 2005, he has worked as an assistant director for Cheikh Oumar Sissoko.