Augen Blicke Afrika 2013 –
Wiedersehen mit Afrika
Afrikanisches Filmfestival in Hamburg
Wann: Donnerstag, 24.10. – Sonntag, 27.10.
und Donnerstag, 31.10. – Sonntag 3.11.13
Wo: Studio-Kino Hamburg, Bernstorffstr. 93-95, 22767 Hamburg
Wer: Augen Blicke Afrika e.V in Kooperation mit W3 – Werkstatt für internationale Kultur und Politik e.V. und dem Studio-Kino Hamburg
Als wir im vergangenen Jahr das afrikanische Filmfestival "Augen Blicke Afrika" in Hamburg ins Leben riefen, gingen wir zwar davon aus, dass es in der Hansestadt dafür ein Publikum geben würde; dennoch waren wir vom Erfolg und der Resonanz positiv überrascht. Darum und weil wir immer wieder gefragt wurden, ob wir im nächsten Jahr das Festival fortführen würden, haben wir uns entschlossen, auch in diesem Jahr neueste afrikanische Filmproduktionen zu zeigen.
In diesem Jahr möchten wir den Blick auf das Spannungsverhältnis richten, in dem sich die jungen afrikanischen Regisseure bewegen, zwischen westlicher und traditioneller Welt, zwischen den Anforderungen des heutigen Lebens und überlieferten Vorstellungen.
Viele von ihnen leben in Europa oder den USA und pendeln zwischen ihren Heimatländern und den Orten ihres Schaffens hin und her. Aus der Auseinandersetzung mit westlichen Konzepten von Gesellschaft erwachsen neue Fragestellungen, die sie aufgreifen und in ihre Herkunftsgesellschaften hineintragen.
So stoßen die Filmemacher Diskussionsprozesse auf dem Kontinent an, greifen in den gesellschaftlichen Diskurs ein und verändern afrikanische Gesellschaften langfristig. Diese Auseinandersetzungen aufzuzeigen, ist ein Anliegen des diesjährigen Filmfestivals.
Das FESPACO-Filmfestival in Ouagadougou, Burkina Faso, ist das bedeutendste Filmfestival des Kontinents und bietet einen guten Überblick über das Schaffen afrikanischer Regisseure. Es ist wie ein Seismograph der Themen, die Afrika bewegen. "Augen Blicke Afrika" zeigt Filme des neuesten FESPACO 2013 und präsentiert dem Hamburger Publikum einen Einblick in das beschriebene Spannungsverhältnis. So ist unsere Fortführung des Filmfestivals zugleich eine Weiterentwicklung des Ansatzes, Afrika aus den Augen der Afrikaner zu zeigen und ein realistisches Bild des Kontinents zu vermitteln.
Wir möchten in diesem Jahr wieder afrikanische Regisseure einladen und mit ihnen auf einem Symposium über die Bedingungen ihrer Arbeit, ihre Themen und ihr Selbstverständnis als Katalysator in der Gesellschaft diskutieren. Ein feierlicher Empfang eröffnet Augen Blicke Afrika 2013. Mit einer afrikanischen Tanznacht in der Motte mit DJ Cheikh klingt das afrikanische Filmfestival aus.
Das Team von Augen Blicke Afrika wünscht Euch spannende Filmtage!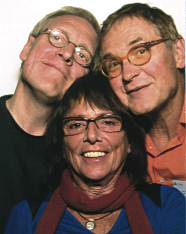 Burkhard Leber
Ingrid Wernich
Hans-Jörg Heinrich
und, noch nicht auf dem Foto,
Alexandra Antwi-Boasiako
Die Veranstalter:
(Augen Blicke Afrika e.V. in Kooperation mit W3 – Werkstatt für internationale Kultur und Politik e.V. und dem Studio-Kino Hamburg)
Wir danken FilmInitiativ e.V. in Köln (www.filme-aus-afrika.de) für die gute Zusammenarbeit bei der Vorbereitung des Festivals.

Augen Blicke Afrika 2013 – Reunion with Afrika
African filmfestival in Hamburg
When: Oct.24th – Nov. 3rd 2013
Where: Studio-Kino Hamburg, Bernstorffstr. 93-95, 22767 Hamburg
Who: Augen Blicke Afrika e.V in cooperation with W3 – Werkstatt für internationale Kultur und Politik e.V. and Studio-Kino Hamburg
When we started the African film festival "Augen Blicke Afrika" in Hamburg last year, we were confident there would be an interested public. But in the end we were surprised by the positive response we got and absolutely overwhelmed by the festival's success. Because of this and because people kept asking if there would be a sequel to the festival the following year, we decided to do it again and present the latest African film productions in 2013.
This year our focus will be on the tension young African directors face between western norms and traditional values, between the requirements of modern everyday life and inherited concepts.
Many of the filmmakers now live in Europe or the USA and move between their countries of origin and their workplaces. The constant engagement with and debates about western models of society raise new questions which are taken back to the societies of their origin.
Thus the filmmakers start critical discourse on their continent, intervene in public debates and change African societies on a long term scale. To give an impression of those conflicts is the agenda of this year's festival.
FESPACO-festival in Ouagadougou, Burkina Faso, is the most important film festival on the continent. It provides a good overview over the output of African filmmakers. Like a seismograph it pinpoints those issues that move Africa today. "Augen Blicke Afrika" presents some of the latest films of FESPACO 2013 and gives the public in Hamburg a good insight into the aforementioned field of tension.
So "Augen Blicke Afrika" is a logical continuation of our attempt to show Africa through the eyes of Africans and thus establishing a realistic picture of the continent. Like last year African directors will attend the festival and discuss the conditions under which their films are created, their issues and their self-concept as promoters of changing societies at our symposium.
The festival will open with a reception and end with the African dance night with DJ Cheikh.
Augen Blicke Afrique 2013
Deuxième apparition du Cinéma Africain á Hambourg
Quand: 24. 10-3.11.2013
Lieu: Studio-Cinema Hambourg, Bernstorffstr. 93-95, 22767 Hambourg
Organisateur: Un clin d oeil Afrique e.V en Coopération avec W3- Atelier international sur la culture et la politique e.V. et le Studio-Cinema Hambourg
Quand nous organisions en 2012 le festival de cinématographique Africain 'Augen Blicke Africa'á Hambourg, on a jamais crues d'avoir autan de succès. On a imaginé qu'il y aurait peu de publique qui va apprécier les films africains. De cela et parce que nous étions toujours demandé, si nous continuions le festival l´année prochaine, nous nous sommes décidés de montrer cette fois si les plus nouvelles productions africaines.
Nous voudrions diriger le regard 2013 vers le rapport de tension dans lequel les jeunes metteurs en scène africains sont confrontés « la vie entre le monde occidental et la tradition africaines ».
Les jeunes réalisateurs africains se trouvent souvent dans la situation où ils doivent se débrouiller avec leurs mentalités et celle de l´occident.
Beaucoup d´entre eux vivent en Europe ou les Etats-Unis et font la navette entre leurs pays d´origine et leurs lieux de travail. Ainsi les cinéastes heurtent des processus de discussion sur le continent, interviennent dans le discours social de la société africaine.
Dans le débat sur les concepts occidentaux, s´ouvrent de nouvelles perspectives du problème qu´ils saisissent et les transportent dans leurs pays d´origine
Le Festival cinématographique FESPACO de Ouagadougou, le Burkina Faso, est le plus festival cinématographique le plus considérable du continent et offre un bon aperçu de la création des metteurs en scène africains. Il est comme un sismographe qui fait vibré l´Afrique.
'Augen Blicke Afrique montre des plus nouveaux films de FESPACO en 2013 et donne au public de Hambourg un aperçu sur les sujets actuels de l´Afrique.
Notre engagement est de continuer á faire le festival, de montrer une image réaliste du continent.
Nous voudrions inviter de nouveau cette année les metteurs en scène africains comme étant le catalyseur á la société et discuter avec eux sur le symposium, les conditions de son (leur) travail ses (leurs) image propre.
Le festival s´achève par une soirée dansante á Motte avec le DJ Cheikh
L´équipe vous souhaite un très bon jours cinématographique