THE MERCY OF THE JUNGLE
Ruanda / Belgien 2017, R.: Joël Karekezi, 91 Min., frz. / Swahili OF, engl. UT
Sergeant Xavier kennt nichts anderes als Krieg. Schon als Kindersoldat war er im Einsatz in seinem Heimatland Ruanda und jetzt kämpft er
im Grenzgebiet der D.R. Kongo mit seiner Einheit gegen Rebellen­gruppen. Der Bauer Faustin hat sich als Zivilist den Soldaten angeschlossen. Eines Morgens wachen sie auf und stellen fest, dass die Truppe ohne sie weitergezogen ist. Ein Irrweg durch den undurchdringlichen Urwald mit all seinen unheimlichen Geräuschen beginnt. Überall könnten Rebellen lauern, die Nerven sind aufs äußerste angespannt. Als Xavier sich schwer verletzt, muss er sich Faustin hilflos ­ausliefern. Das schweißt zusammen, aber das Misstrauen bleibt. Auch als sie in einem Dorf Hilfe erhalten und so etwas wie Normalität erleben, treibt es Xavier wieder weiter in die grüne Hölle.
Der Dschungel ist wie der Krieg, keiner findet den Weg hinaus, ein "Albtraum wie im Fieberwahn" heißt es im Film. Aber auch die Schönheit des Urwaldes mit seinen Licht- und Schattenspielen, der ­Pflanzen- und Tierwelt findet in dem in Uganda gedrehten Film ihren Ausdruck.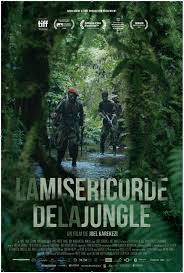 Joël Karekezi, geb. in Ruanda, machte 2008 seinen Abschluss in Filmregie. "The Mercy of the Jungle" ist sein zweiter Spielfilm. Er beruht auf seinen eigenen ­Erlebnissen während des Genozids 1994 in Ruanda, bei dem sein Vater ums Leben kam und er in den Kongo ­fliehen musste.
Der Film wurde mit dem Hauptpreis beim Fespaco 2019 ausgezeichnet.